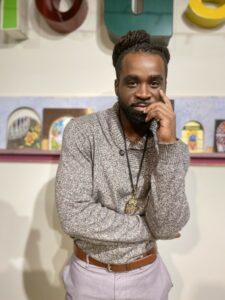 Ron'Dale Simpson
FRONT Fellow at Cleveland Public Library

A native of Saginaw, Michigan, Ron'Dale Simpson discovered his passion for dance at an early age. He danced in youth dance groups and competed in local talent shows. Ron'Dale attended The Central State University, where he participated in several extracurricular activities and clubs. He was a member of the university marching band, wherein his last year the Drum major. Ron'Dale is a member of Mu Phi Epsilon international professional music fraternity inc. And also, the former national president of Nu Rho Sigma Fine Arts fraternity inc. He enjoys a career as a performer and educator in hip hop, afro-fusion, modern, and other dance styles. He is the Founder and artistic director of Blakk Jakk Dance Collective. BJDC was created to allow dancers of color the opportunity to improve their skills, perform and build a network of emerging and professional dancers, as well as create works of artistic excellence and broaden the appreciation of dance in our community. He has done projects with the Karamu house theater, Rainey Institute, Cleveland's Playhouse, CMSD schools, and freelance work in the community. One of Ron'Dale's life goals is owning and operating a performing arts school and company geared towards community youth and local artists.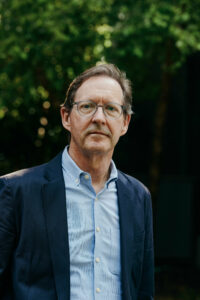 Fred Bidwell
Executive Director

Fred Bidwell is a philanthropist, collector, and community leader. After a 35-year career as an advertising and marketing entrepreneur, in 2011 he and his wife established the Fred and Laura Ruth Bidwell Foundation. In 2013, the Bidwell Foundation opened Transformer Station, a contemporary art exhibition space on Cleveland's West Side. Transformer Station alternates between acting as a venue for exhibitions curated by the Bidwells from their renowned collection of photo-based contemporary art and as a venue for exhibitions organized by the Cleveland Museum of Art. Fred Bidwell served twice as board president of the Akron Art Museum and is currently on the board of the Cleveland Museum of Art, on the Visiting Committee of the Allen Memorial Art Museum, and chairs the board of Assembly for the Arts.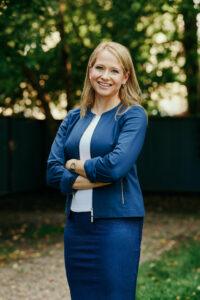 Sarah Spinner Liska
Deputy Director and Director of Exhibitions

Sarah Spinner Liska is a lawyer and historian, with extensive experience in the arts and project management. After moving to Ohio, Sarah worked on the inaugural edition of FRONT International and also served as the Director of Data and Analytics on a congressional campaign. She holds a Ph.D. from Yale University, where she received the Hans Gatzke Prize for Outstanding Dissertation in European History, and a J.D. from Yale Law School, where she served as an editor on the Yale Law Journal and the Yale Journal of Law & the Humanities. Sarah was awarded a Golieb Fellowship in Legal History at NYU Law School and holds a B.A. in the History of Art and French and an M.A. in Humanistic Studies from Johns Hopkins University. Sarah is admitted to practice law in Ohio and is a member of the Ohio State Bar Association. She chairs the Special Exhibitions Committee at the Maltz Museum, leads the Community Conversations series as a trustee for the Yale Alumni Association of Cleveland, and serves on the Johns Hopkins University Second Decade Society.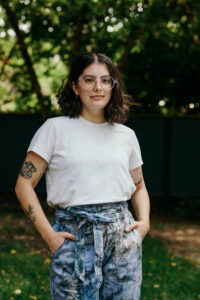 Allison H. Smith
Project Manager

Allison H. Smith is an artist and arts administrator, specializing in exhibitions, project management, and social media. She is a double alumnus of Kent State University, holding a B.F.A. (2014) and M.F.A. (2018) in studio art with a concentration in textiles. In addition to FRONT, Allison also manages Transformer Station, a contemporary art museum in Ohio City, coordinating exhibitions, managing the collection, serving as an artist liaison, and developing social media content. Allison previously served as the Graduate Assistant to the Director of the Kent State University School of Art Collection & Galleries, as an art instructor at 4Cats Arts Studio and the Artful Living & Learning Program, and as a Museum Assistant at the Massillon Museum.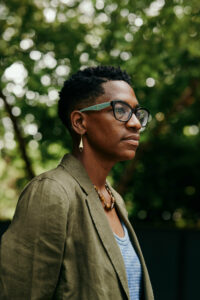 Deidre McPherson
Director of Artistic and Community Initiatives

Deidre McPherson is a creative producer, brand experience expert, and community advocate who has held leadership roles at the Cleveland Museum of Art and Museum of Contemporary Art Cleveland. At both institutions, she was the creative architect responsible for producing and managing a range of community events and exhibition-inspired programs designed to make the museum a vibrant, socially relevant, and welcoming destination. Deidre regularly works on projects with arts and cultural institutions throughout Cleveland through her private consulting practice. She was founding director of Sistah Sinema Cleveland, a monthly film & dialogue series (2012-2017) that centered queer women of color for which she received the City of Cleveland's LGBT Heritage Award in Arts & Culture (2018). An avid cyclist, Deidre serves on the board of Bike Cleveland and is certified by the League of American Bicyclists as a League Cycling Instructor.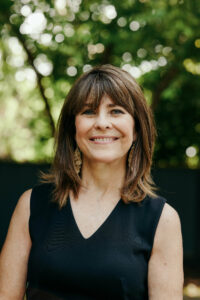 Janet Renner
Director of Marketing

Janet Renner comes to FRONT with more than 25 years of experience leading profitable branding, marketing and sales initiatives for consumer-packaged goods, e-commerce, creative, and retail businesses. Most recently, she was the Director of Shopper Marketing for American Greetings Corporation, guiding $40 million in marketing investment with Walmart, Target, Amazon, national and regional drug and grocery retailers, and a host of licensing partners including Disney, McDonalds, Sesame Street and Nickelodeon. Prior to American Greetings, Janet held leadership positions at KeyBank and Rubbermaid Corporation. Janet is passionate about volunteering her time to help individuals, small businesses and non-profit organizations benefit from her corporate experience, by helping them grow using big company approaches and techniques. Janet has held fund raising and board positions with The Cystic Fibrosis Foundation and Great Lakes Theater.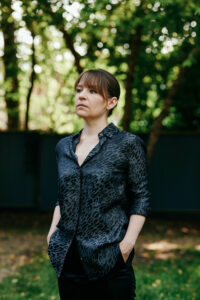 Annie Wischmeyer
Assistant Curator

Annie Wischmeyer is a curator and writer based in Kent, Ohio. Alongside FRONT, she is the Curatorial Consultant for Curated Storefront in Akron, Ohio, helping to develop new installations and expand the scope of the organization's mission of transforming Akron into a dynamic urban destination through the arts. She was previously a curator at the Akron Art Museum and Associate Curator of the Hunter College Galleries in New York City, where she organized numerous exhibitions and interdisciplinary public programs.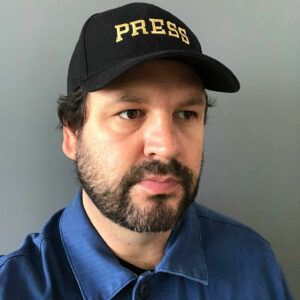 Dushko Petrovich Córdova
Director of Communications and Publications

Dushko Petrovich Córdova is a co-founder of Paper Monument, where he has published numerous critically acclaimed and bestselling books, including Draw It with Your Eyes Closed: The Art of the Art Assignment; Social Medium: Artists Writing 2000-2015; and As Radical, as Mother, as Salad, as Shelter: What Should Art Institutions Do Now? Petrovich has produced Adjunct Commuter Weekly and The Daily Gentrifier under his personal imprint, DME. He has written about art and visual culture for many publications including n+1, Bookforum, Art in America, ArtNews and the New York Times. His work has been reviewed in publications such as Artforum, artnet, The New Yorker, and the New York Times, among many others. Having previously taught at Boston University, Yale University, and the Rhode Island School of Design, Petrovich is an associate professor in the New Arts Journalism department at the School of the Art Institute of Chicago.
Artistic Director
Read more about FRONT 2022's Artistic Director here.
Project Management
Nancy Boylan
Joe Lanzilotta
Greg Peckham
Development
Finance and Accounting
Kelly Peecook
Elizabeth Place
Rita Tersigni